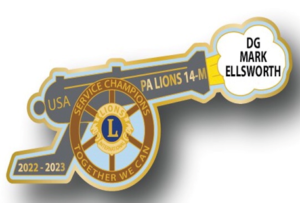 TO ALL LIONS OF DISTRICT 14-M
Ephesians 2:10 – "We are His workmanship, created in Christ Jesus for good works, which God prepared beforehand, that we should walk in them." We serve and volunteer confidently, knowing that God has prepared the way for us!
I am very Proud and Honored to represent District 14-M in 2022-2023. Our International President, Brian Sheehan's moto is, "Together We Can." With that service theme, I am choosing, "Service Champions" combined with his "Together We Can."
I feel that LIONS are Service Champions in all that we say and do within our communities each day. It takes all LIONS working together to be able to help support our very important causes (Childhood Cancer, Diabetes, Environment, Hunger, and Vision) all around the world. Every Lion is very important to the success of servicing our communities and helping those in need. Your continued support and service is what makes LCI to be the Best Service Organization in the World.
Hebrews 6:10 – "God is not unjust; he will not forget your work and the love you have shown him as you have helped his people and continue to help them.".
Continually serving others is a form of expressing our faith in and to God. When we start to grow weary in our serving, we can be reenergized in our commitment by knowing that he sees us, and he will not forget.
I want to thank my club, Uniontown Lions Club, for their support, mentorship, and building my confidence in taking this step to become District Governor.
I want to thank all the Lions in the District for trusting and believing in me, in order to represent all of the Great Lions that make up this magnificent district.
A very special Thanks goes to my wife, Lion Paula for all her help and support along the way.
Man in the Arena by Theodore Roosevelt.
"It is not the critic who counts; not the man who points out how the strong man stumbles, or where the doer of deeds could have done them better. The credit belongs to the man who is actually in the arena, whose face is marred by dust and sweat and blood; who strives valiantly; who errs, who comes short again and again, because there is no effort without error and shortcoming; but who does actually strive to do the deeds; who knows great enthusiasms, the great devotions; who spends himself in a worthy cause; who at the best knows in the end the triumph of high achievement, and who at the worst, if he fails, at least fails while daring greatly, so that his place shall never be with those cold and timid souls who neither know victory nor defeat."
This stands true today for all Lions.
DISTRICT 14-M CABINET 2022-2023
724-564-0574 (H) 724-562-4873 (C)
First Vice District Governor
724-628-9245 (H) 412-582-9220 (C)
Second Vice District Governor
Cabinet Secretary
Gregory Wilson
724-438-7658 (H) 724-466-7620 (C)
ljkcpa2@gmail.com
District Admininstrator/Advisor
Greater Canonsburg Lions Club
PDG Richard Tinsmith (Laurel)
814-479-2864 (H) 814-659-8597 (C)
GMA COORDINATORs
GLT District Coordinator
814-244-9210 (C)
PDG Richard Tinsmith (Laurel)
814-479-2864 (H) 814-659-8597 (C)
Greater Canonsburg Lions Club
PDG Richard Tinsmith (Laurel)
814-479-2864 (H) 814-659-8597 (C)